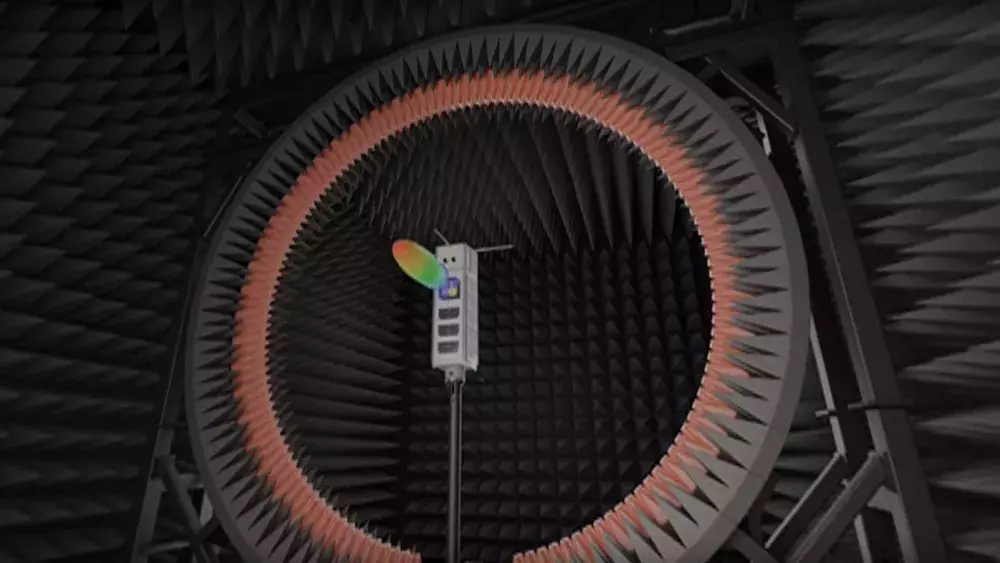 发表于 05/04/2023 17:00:00
You might be familiar with various antenna test & measurement chambers, but have you ever been inside one with an SG Evo multi-probe test system? If you have, what was being tested? A BTS? A large phased array? How about a satellite?!
Well, if you have never stepped into an antenna measurement chamber or if you have never seen how an MVG multi-probe system tests satellites, here is your chance to get a quick 360° view of what goes on inside a satellite test chamber with an SG Evo.
The SG Evo performs spherical near-field measurements and OTA testing. It features elevation positioning within the arch, eliminating the need to tilt the device under test (DUT), and consequently avoiding gravitational deflections of the DUT and azimuth positioner, even when testing heavy DUTs.
Advanced positioning and electronic scanning of the probe array results in a fast and accurate visualization of radiation patterns, gain, directivity and other parameters of antennas on the device.
With this new 360° - 3D video, you can see for yourself, have a look (all) around, and get a feel for what takes place inside the chamber.