LARS J. FOGED Receives the 2023 IEEE Industrial Innovation Award
LARS J. FOGED Receives the 2023 IEEE Industrial Innovation Award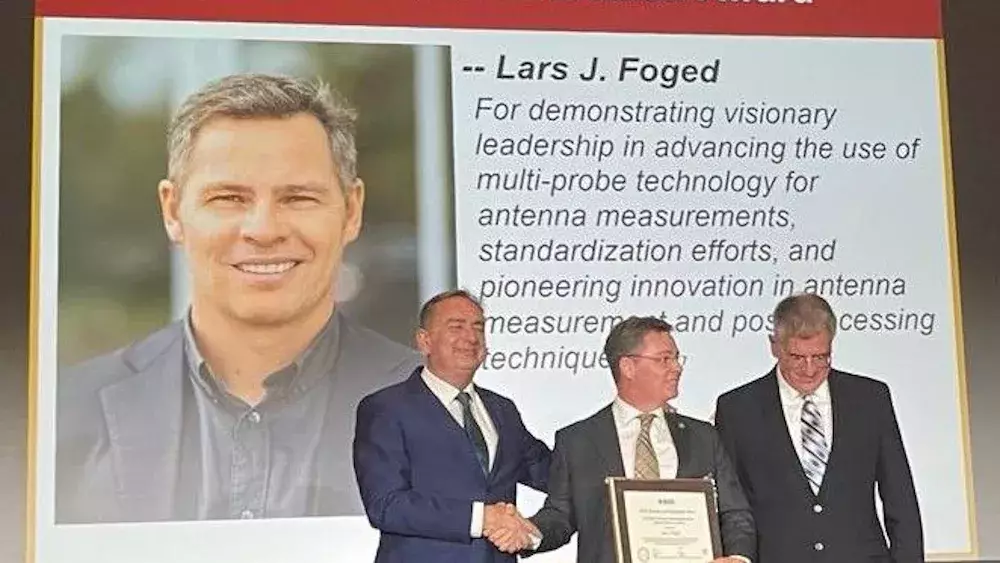 Published on 09/08/2023 17:00:00
For demonstrating visionary leadership in advancing the use of multi-probetechnology for antenna measurements, standardization efforts, and pioneering innovation in antenna measurement and post-processing techniques.
The IEEE APS-URSI Symposium in Portland, Oregon set the stage for the awards ceremony and the inauguration of this illustrious award. Lars Foged, MVG's Scientific Director shares his gratitude as he is recognized for his achievements and dedication to the field:
"Receiving the prestigious IEEE 2023 Industrial Innovation Award in its inauguration year at the APS Symposium in Portland (OR) was an immensely overwhelming and humbling experience. I am truly grateful to my exceptional colleagues at MVG whose unwavering support and collaboration made this achievement possible.

My heartfelt thanks to Juan Mosig for nominating me for this esteemed award. I am deeply grateful to Jean Charles Bolomey, Manuel Sierra Castaner, Chi-Chih Chen and Vikass Monebhurrun for crafting such convincing and compelling support letters.

Finally, I extend my gratitude to all the inspiring individuals within our community who have supported and motivated me throughout this journey. This award also serves as a testament to the power of teamwork and collaboration across our industry.

With this recognition, I am even more motivated to continue pushing the boundaries of industrial innovation and contributing to advancements that will benefit our society."
We are proud of Lars, pleased that he has benefitted from MVG support, and that he is motivated to continue advancing antenna measurement technologies and shape the landscape of antenna design and innovation in the industry and for MVG.