The Biggest Horizontal Near-Field Planar Scanner You've Ever Seen!
The Biggest Horizontal Near-Field Planar Scanner You've Ever Seen!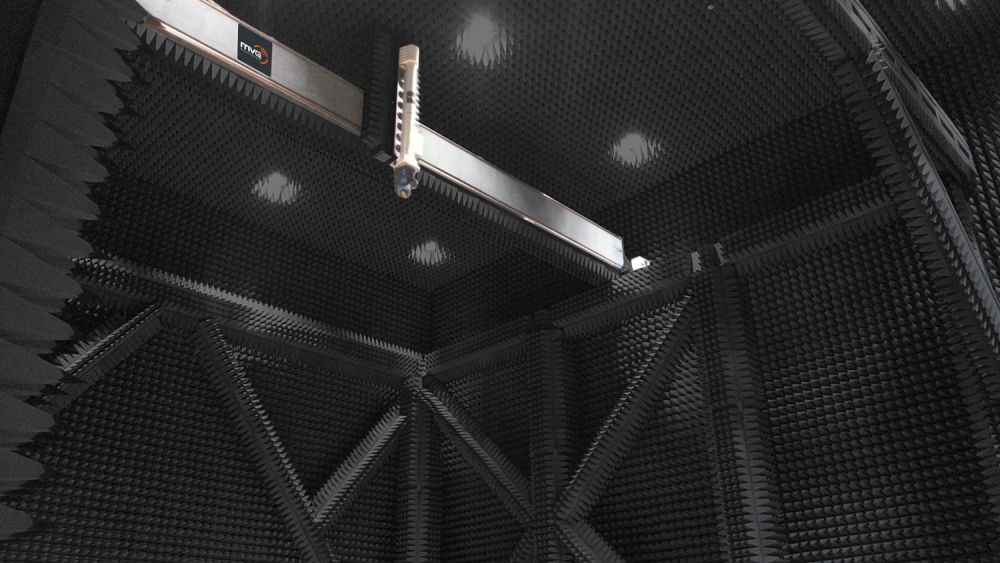 Published on 02/06/2016 16:00:00
MVG has recently installed an extra-large horizontal planar scanner to test satellites, for a customer in Europe. This scanner, dubbed the HScan, is a unique horizontal near-field planar scanner particularly suited for the antenna measurement of space-borne antennas, large reflectors, certain space-vehicle mounted antennas and the testing and calibration of multi beams of phased array antennas. The unique design of the scanner allows its complete retraction out of the measurement chamber, thus enabling to utilize the chamber for multiple functionalities. This large scanner measures 16m x 12m with a 3m z-axis. The probe is mounted on a 4-axis stage, to enable motion in Z, Theta, Phi and Roll directions. These axes are utilized both for realizing complex measurement scenarios and real time geometrical position error corrections.
With the HScan, measure gain, directivity, beam width, cross-polar discrimination, side lobe levels, radiation patterns in any polarization (linear), antenna efficiency and more. It covers a frequency range of 100 MHz – 110 GHz and ensures mechanical positioning accuracy and planarity, and enables high speed measurement processes. The HScan integrates leading edge motor drive and encoder technologies.
The HScan is designed and manufactured by Orbit/FR, an affiliate of MVG. Orbit/FR specializes in high precision, high speed mechanical scanning technology. This HScan is their largest developed model.